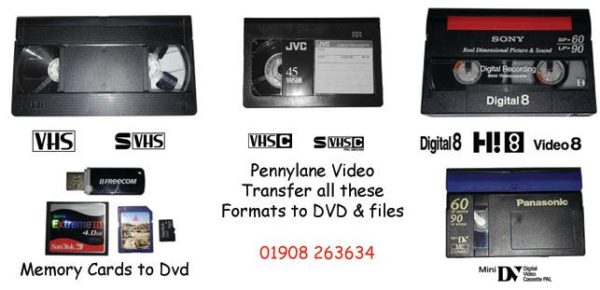 Video Transfer to DVD, Digital Files and USB
The most common type of video tape is of course VHS tapes, VHS transfer to dvd costs cover for a maximum running time of 3 hours from 1 tape. Vhs was used primarily for recording tv programs. Its other uses, people used to edit and transfer there camcorder tapes to vhs.
Video transfer/conversion prices to DVD
£20 for 1 video tape (up to 3hrs) including DVD and return post (Recorded Delivery)
Return post by Special Delivery is also available – please call for pricing
Discounts available for 2 or more individual video tapes to separate DVD's
Pricing as low as £12 per video converted to DVD, for larger quantities of tapes.
All DVD's are presented in a DVD case.
Camcorder Tapes Pricing
Depending on the type of camcorder tape anything between £10 and £12 each plus delivery.
Additional DVD duplication prices
Additional copies of your DVD when ordered at the same time if transfer.
up to 3 DVD copies £5 each
4 and above £4 each
For larger quantity duplication please call for pricing
AS MP4 computer files the cost is dependent on the running time, £15 minimum charge for the 1st hour, then £10 per hour after this from 1 tape. Usb Sticks, Hard Drive and Memory cards, at a Reasonable cost (Currys Prices).
We also transfer Minidv, Vhs, Vhsc, Svhs, Svhsc, Video8, Digital8 andHi8 all to dvd or files.